As an employer, you owe a duty of care to your employees. If an employee sustains an injury in the course of their employment, they may lodge a statutory claim with WorkCover. The purpose of this claim is to fund their rehabilitation expenses and get them back to work.
At (or near) the end of that claim process, if the worker alleges their injuries are the result of their employers' negligence, the worker may make a common law claim for damages. Any amounts paid by WorkCover under the statutory claim are factored into any monies paid in the common law claim.
You would have dealt directly with WorkCover through the statutory claims process. Once a common law claim for damages is lodged, WorkCover instruct a panel firm to act on behalf of WorkCover and the employer. Having a lawsuit brought against you may be a daunting prospect, however, it is important to remember that WorkCover as your insurer will assist you to defend the claim.
What is the Process?
Step 1: Notice of Claim
The employer receives a Notice of Claim sent by the claimant's lawyers. A copy will also be sent to WorkCover, who will then allocate a law firm to handle your matter (i.e BTLawyers).
From this point, a representative of BTLawyers will make contact with the claimant's solicitors, WorkCover and you within 48 hours of the claim being opened.
Step 2: Further Information / Investigation
BTLawyers will review WorkCover's file including any documents you have previously provided to WorkCover. In order to give you the best advice possible, we will likely need further information from you. This can include full employment and incident records, photographs, videos and statements. Our aim is to make this process as painless as possible as we understand you have a business to run.
We may choose to attend your site or office personally or instruct agents to obtain this information from you directly. This means we are able to get any statements or photo/video evidence as soon as possible. We can also go through any questions or concerns you may have.
Step 3: Advice
After BTLawyers has examined the information provided by the employer, we will deliver an advice regarding the employer's potential exposure to the claim. This will include:
whether a court would likely make a finding of negligence; and
quantum, which is how much the likely award of damages would be if the claim were successful at court.
This is all done in confidence with the employer and WorkCover.
WorkCover then issues a "liability response" admitting or denying liability. You will be provided with a copy of that decision.
Step 4: Conference (Pre-Litigation Negotiation)
It is mandatory under the Workers' Compensation Rehabilitation Act 2003 (Qld) (The Act') for the involved parties to attend a settlement conference prior to being able to file court proceedings. Employers are encouraged to attend these conferences as it provides an opportunity for you to hear the claimant's case and provide any instructions we need to negotiate on your behalf.
At the end of the conference, each party is required to make an offer to settle the claim. That offer can be a "walk away" offer in some cases. These offers remain open for two weeks and if they are not accepted, the claimant will need to commence proceedings in order to continue the claim.
Step 5: Litigation
If the matter cannot be resolved at conference, the claimant's lawyers have 60 days from the date of the conference to commence proceedings. This is filing a claim in court. It is important to remember a matter can still be resolved informally at any point prior to, and even during, the trial.
BTLawyers will only proceed to trial if we believe it is necessary to get the best outcome, factoring in all the risks and additional costs.
We've prepared the following infographic to help clarify the process: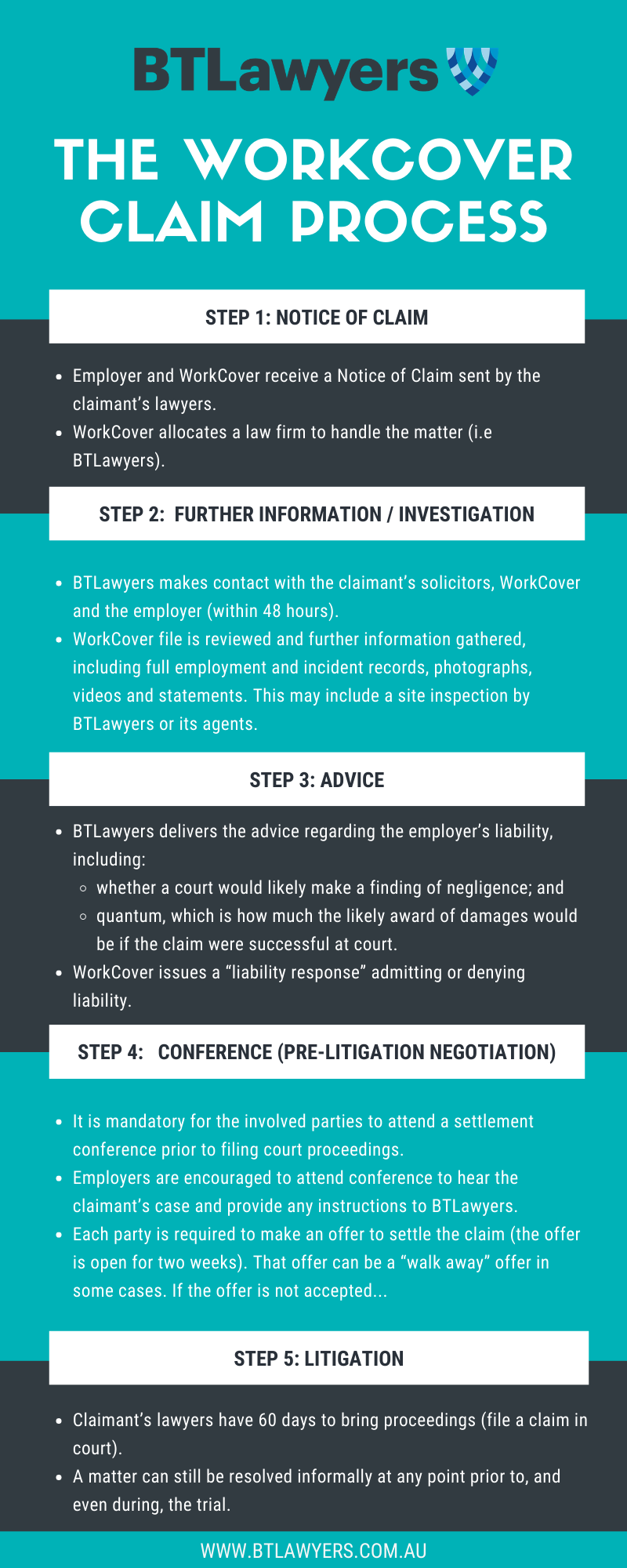 What do I have to do?
You have an obligation under the Act to "co-operate". We will discuss what we need from you during the claim. The more information you can provide and the quicker you can get the information to us, the better we will be able to advise you. BTLawyers can answer any questions you have about the claim or the process.
What will we do?
We will keep you involved in the WorkCover claim process and any developments as they arise. We will provide you confidential advice in relation to the claim and any risks involved. If at any time you have any questions or concerns in relation to the claim, please don't hesitate to ask.
You're in safe hands
BTLawyers has been acting for WorkCover employers for over 17 years. We are the dispute resolution experts and we have a proven record of performance to substantiate our claims. Whether it's a WorkCover matter, a commercial dispute or an employment issue, our role is to achieve the best outcome for you and your business.
Contact us on (07) 3211 2233 to discuss further or send us an enquiry using the form below.